Project Description
In 2013, I joined Foreign Policy—a DC-based magazine and news website that covers international politics, policy, economics, and culture—as their creative director. The nearly 45-year-old magazine started as a an academic journal during the Vietnam War era. Conceived as an antidote to conventional foreign policy journals of the time, Foreign Policy aspired to be "serious but not scholarly, lively but not glib." In the 2000s, Foreign Policy morphed into a bi-monthly glossy magazine, taking on a more journalistic and less academic approach. While FP excelled in serious, longform journalism and thoughtful analysis, a magazine with newsweekly/newspaper roots struggled to find its visual niche within the expanding, internationally-minded and sophisticated media landscape.
During my tenure I was part of a team that re-launched the website, refreshed and expanded the visual identity, and overhauled the print magazine by introducing new departments, expanding the coverage and emphasis on visually driven storytelling. FP was recognized in kind, gaining attention from the design and photojournalism community and winning various awards that FP had never entered before.
—
Awards
Society of Publication Designers: SPD 50, silver medal, digital, "Feature Article", 2015
American Illustration: AI34, 2015
American Photography: AP31, 2015
American Illustration: AI33, 2014
Society of Publication Designers: SPD 49, medal finalist, "Redesign, Section", 2014
Society for News Design: SND 35, award of excellence, Feature, Combination Print + Digital and Spot color illustration, 2014
---
Role:
Creative Director
---
Skills:
Department lead
Strategy
Branding
Art direction
Design
Photo editing
---
Credits:
Ed Johnson, Deputy art director
Mindy Kay Bricker, Executive editor, print
J. Peter Scoblic, Executive editor, print
Benjamin Pauker, Executive editor, web
James Wellford, Contributing photo editor

---
PROJECT DESCRIPTION
The print magazine hadn't had a proper redesign since 2000, when it moved from a journal format to a glossy news magazine. With this in mind, myself and my art director, Ed Johnson, worked with a small team of editors over the summer of 2014 to conceive a new vision for the magazine, which, while keeping the highest quality of journalism throughout the years, had since lost its identity and needed to redefine its core.
Each issue has three distinct sections, announced by openers, or single-page "splash pages": the front of book section, "Sightlines", which gives a quick read to a variety of issues using easy-to-digest formats: infographics, brief explainers, conversational writing. The feature section is now themed, and is introduced by a brief editor's note to give context. "Observation Deck", the back of book section, houses opinion and analysis from a variety of vantage points.
Flipping through the rest of the pages there's find a commitment to a stronger visual presence, in both form and content—wider margins and white space allow both image and text to breathe. A cohesive type direction and the red, black, white and gray color palette straddles the line between modern and classic. Most importantly, though, are the introduction of new departments such as "Visual Statement" and "Aperture"—where artists and photographers are invited not only to be accompaniment for the written word, but they are authors themselves, giving them equal billing with edit.
It was a great experience made only possible by having visionary editors to collaborate with. Our redesign set a new standard for the magazine, as the creative industry recognized FP as a platform for important, inspiring work.
—
---
Role:
Creative Director
---
Skills:
Team lead
Strategy
Art direction
Design
Photo editing
---
Credits:
Mindy Kay Bricker, Executive editor
Ed Johnson, Art director
Margaret Swart, Contributing lead designer
o Banquinho, Contributing design studio
James Wellford, Contributing photo editor
Chandra Illick, Motion design

---
Awards
Creative Review Design Annual, 2016
AIGA 50, AIGA DC Chapter, 2016
SPD 51, merit, "Redesign," Society of Publication Designers, 2016

Press
"Redesigning Foreign Policy," SPD's Grids blog, 2015
Global Thinkers package + Microsite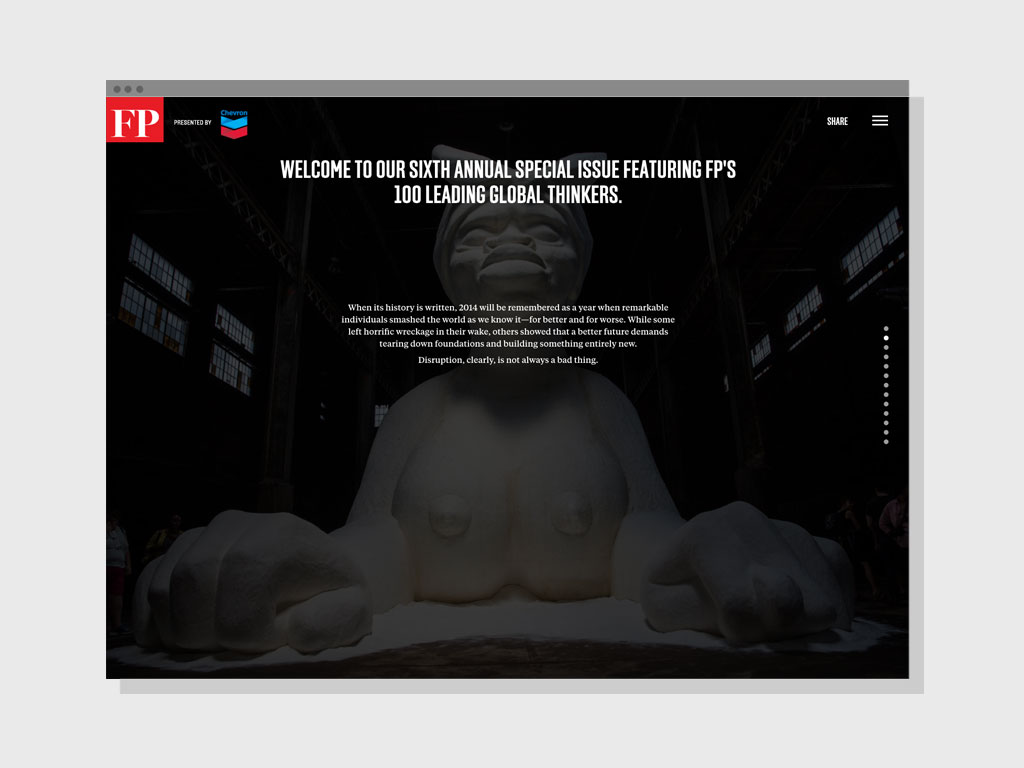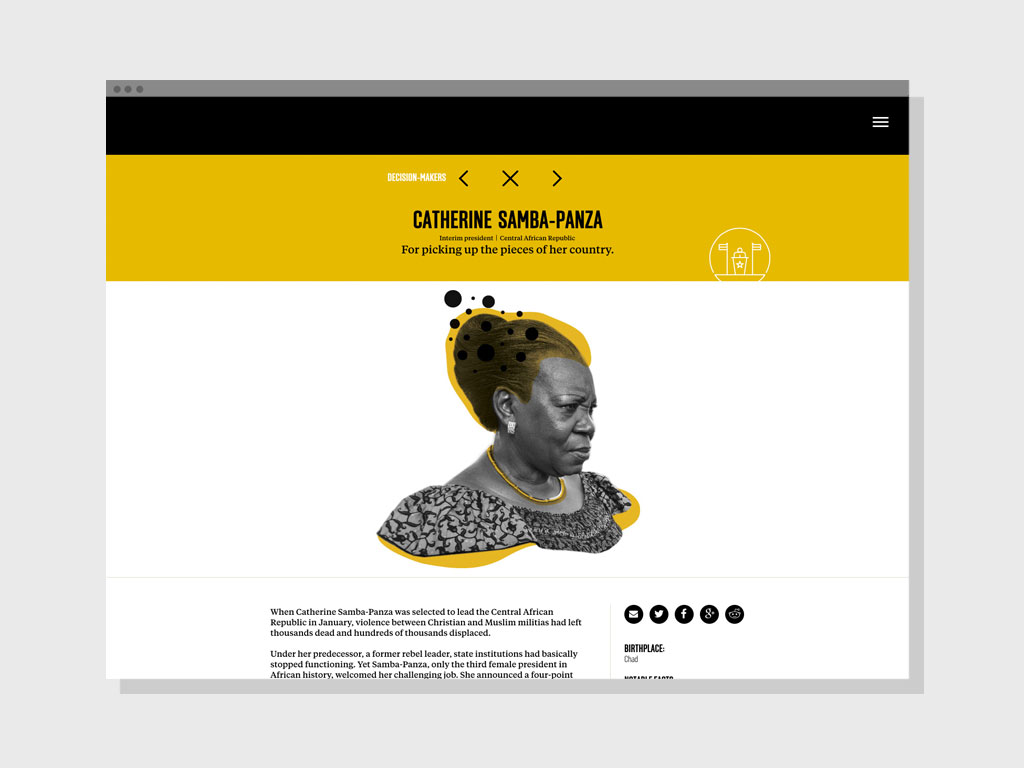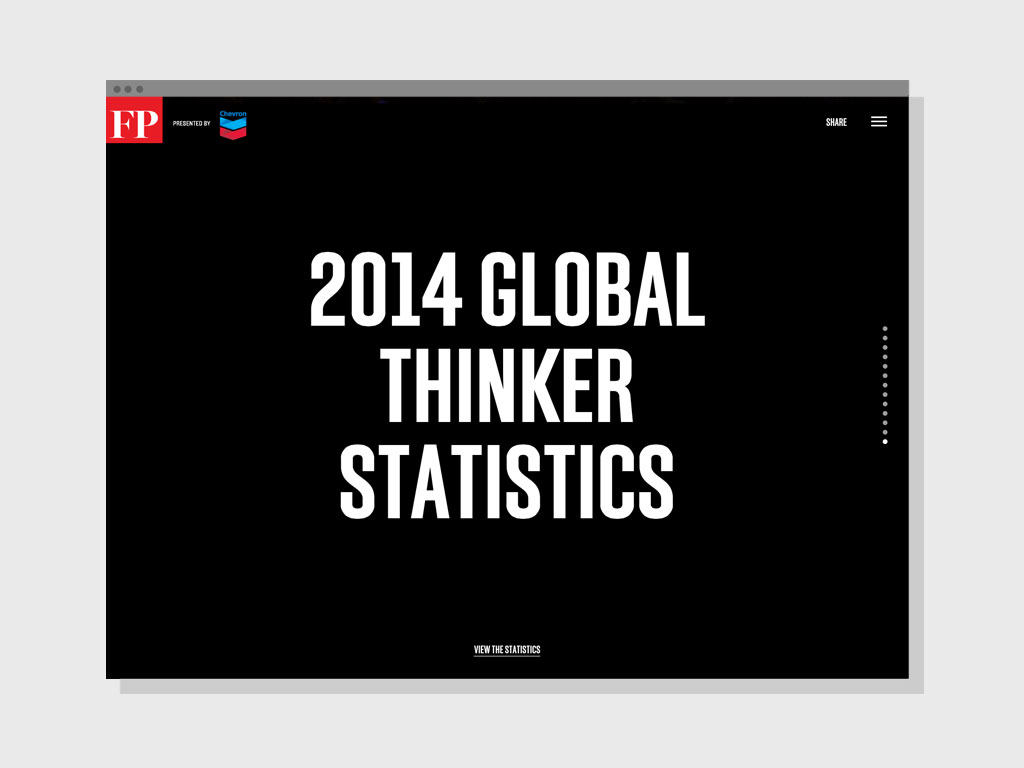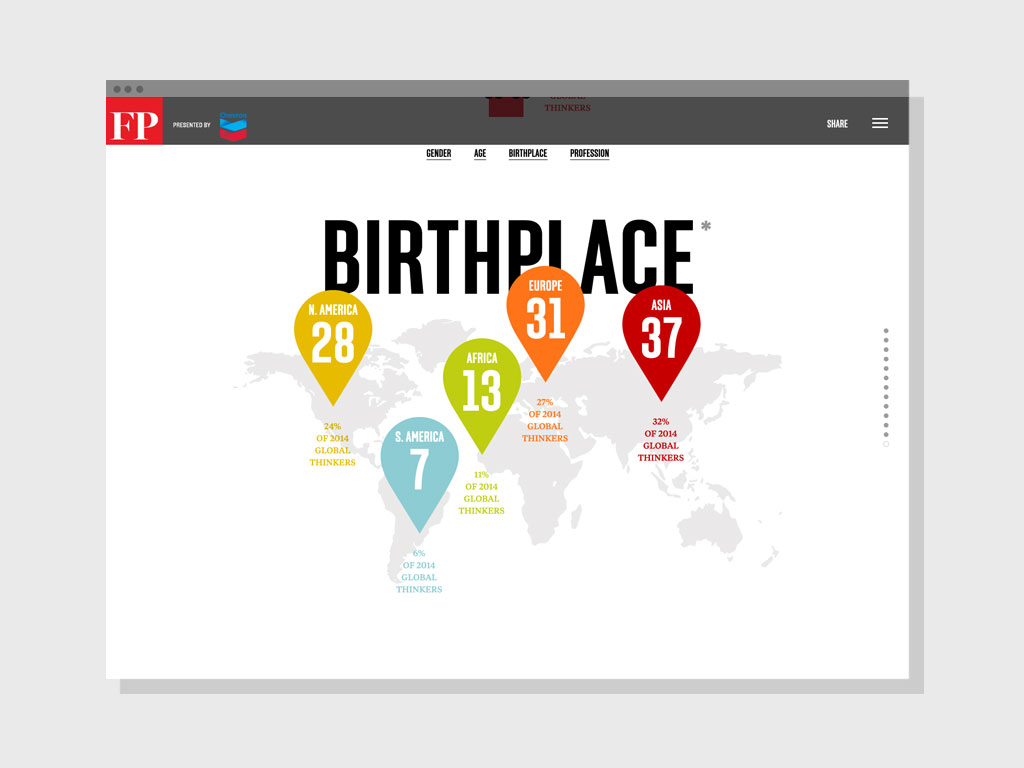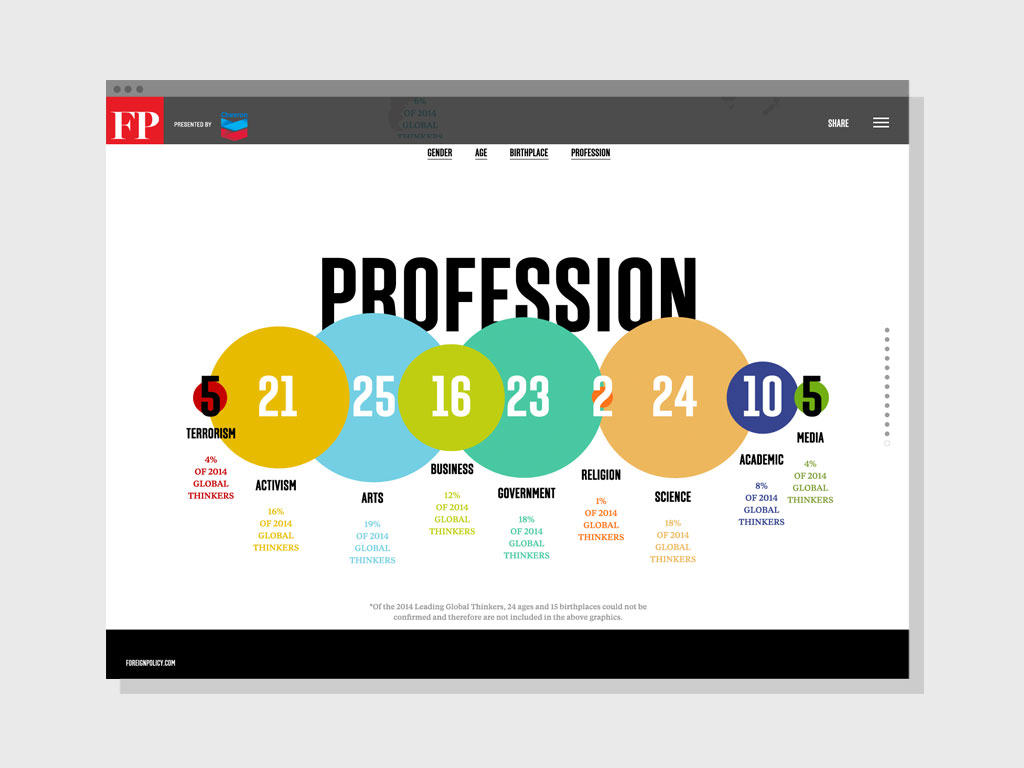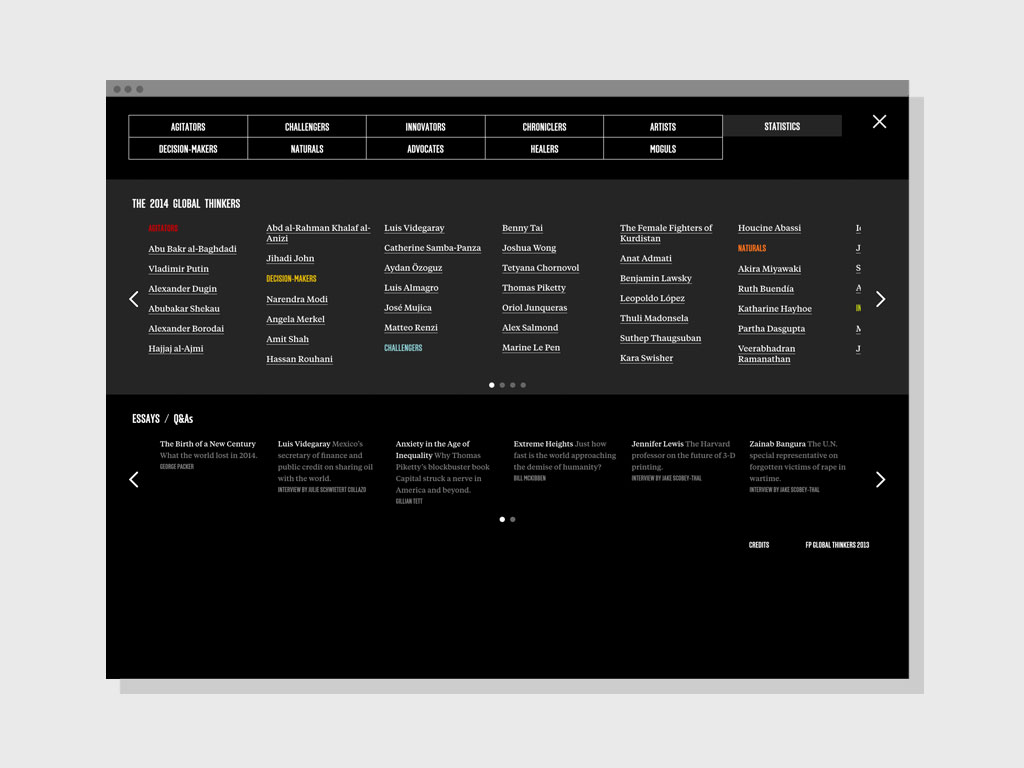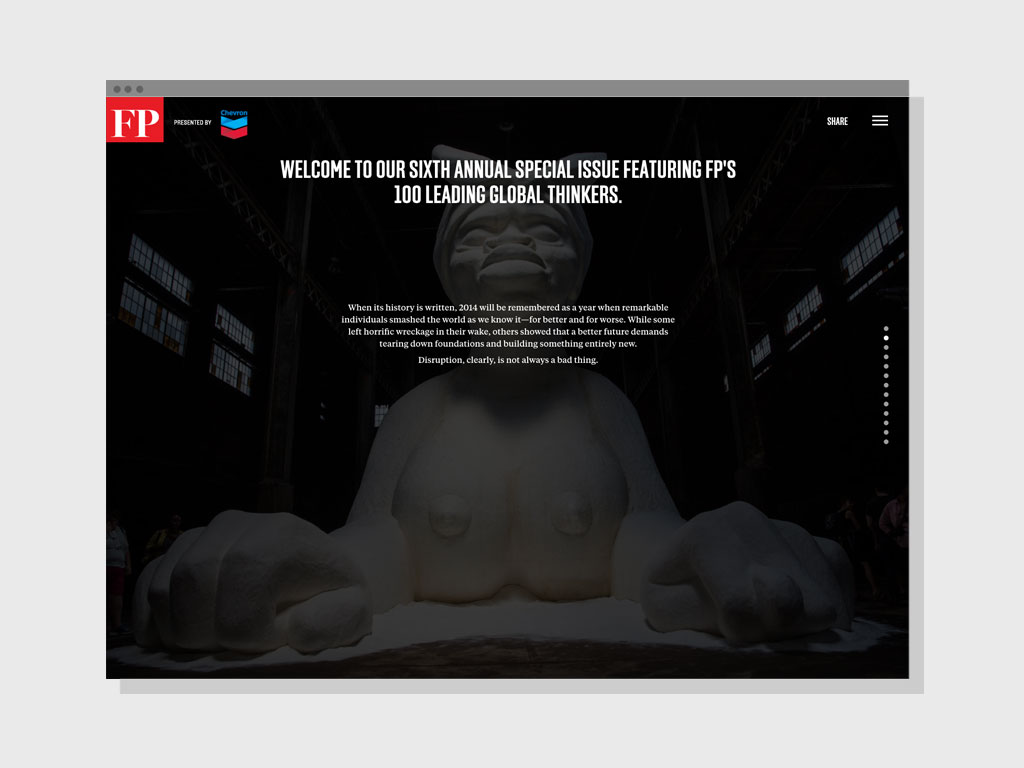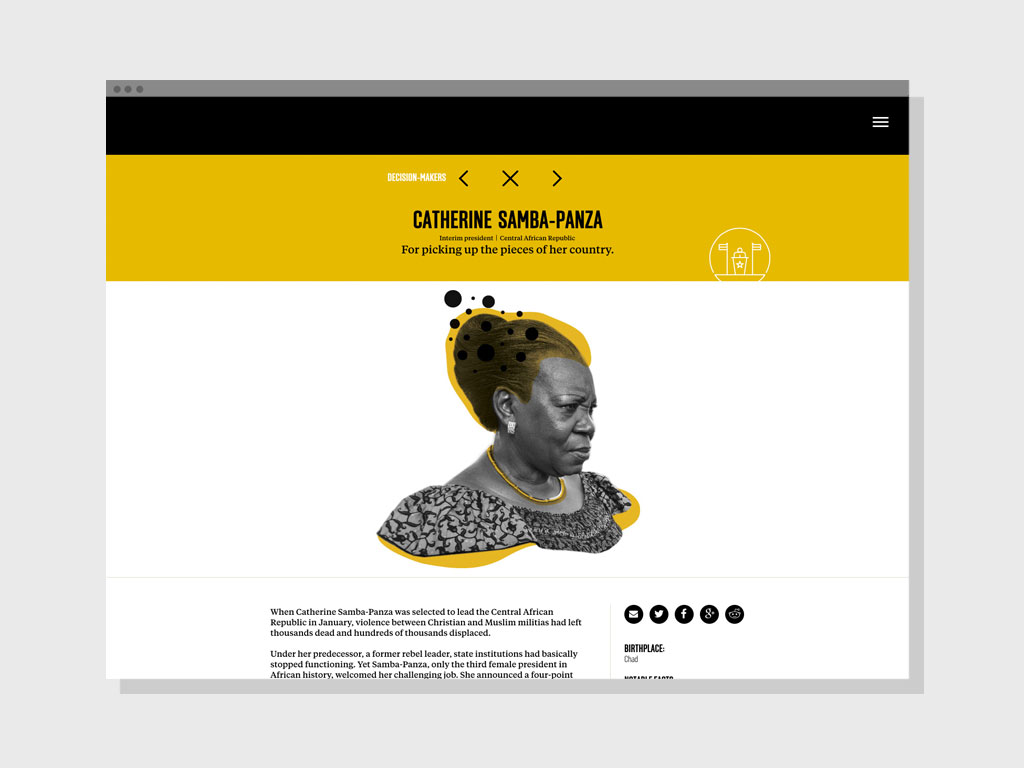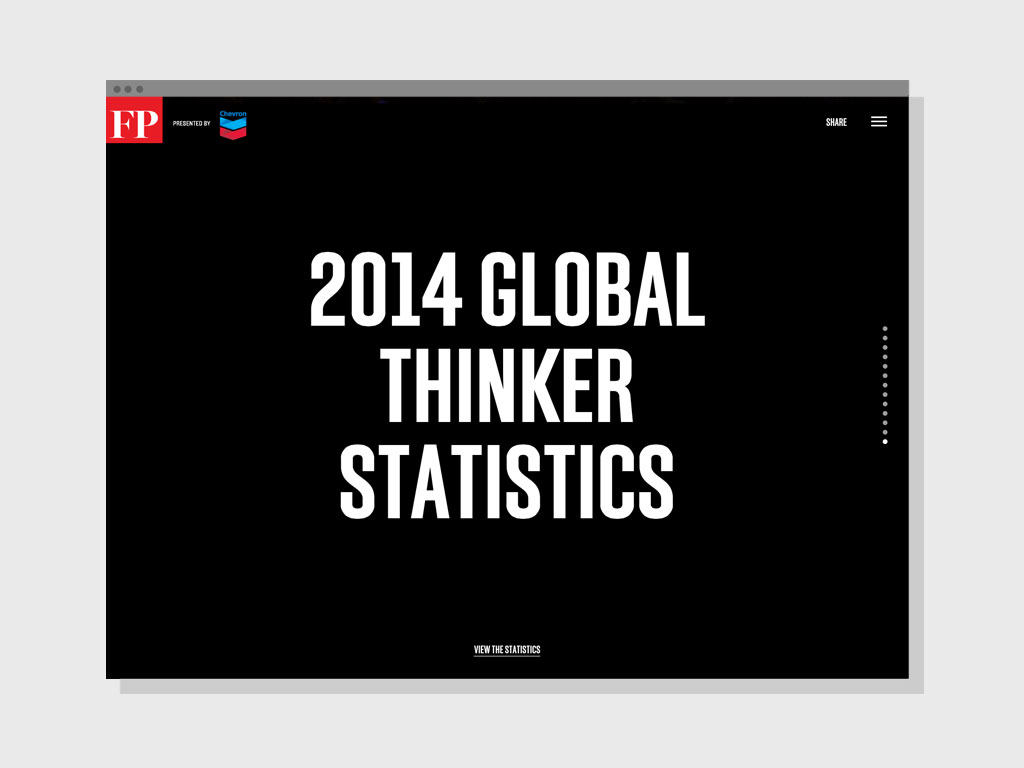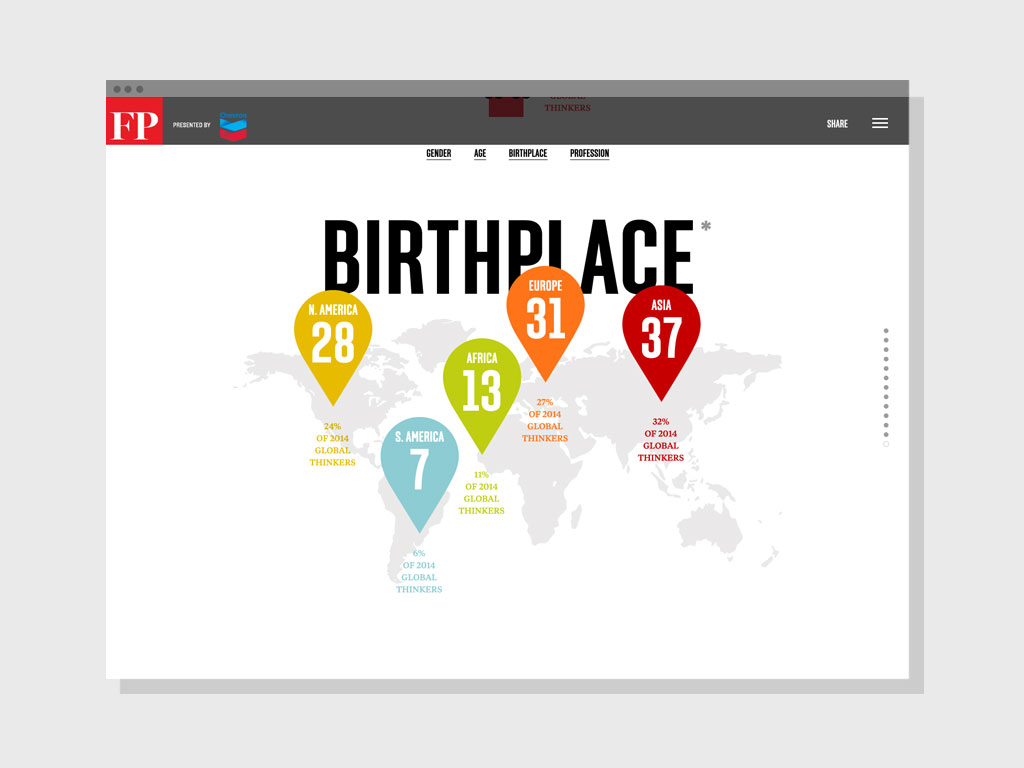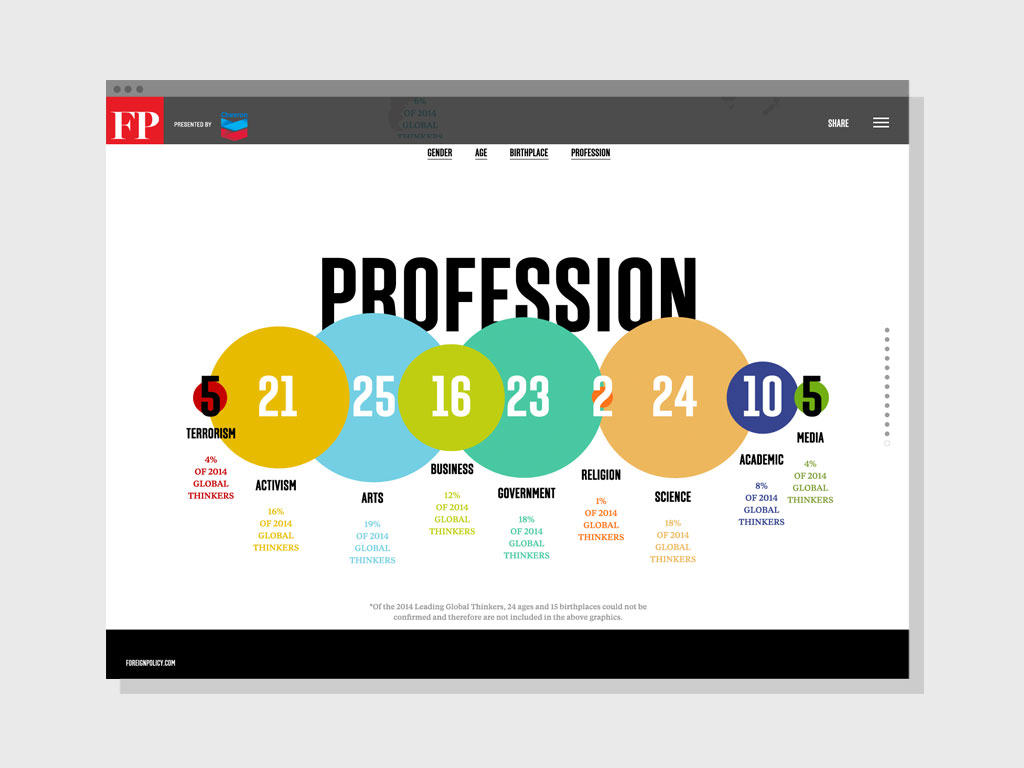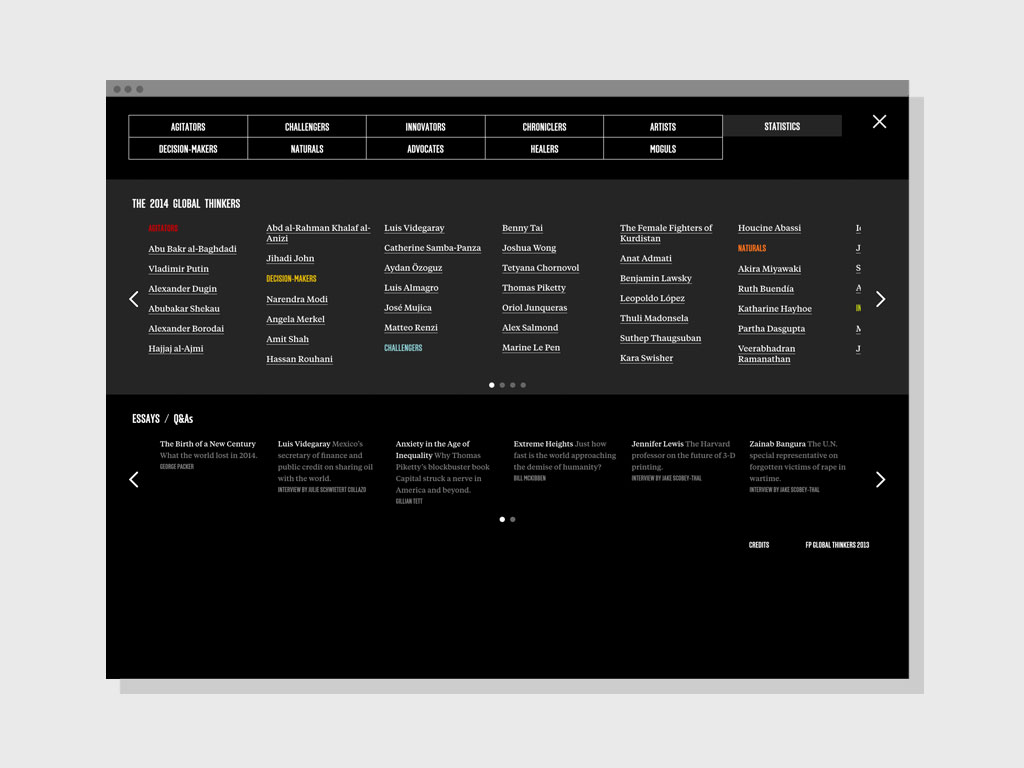 PROJECT DESCRIPTION
One of Foreign Policy's marquee brands is their annual Global Thinkers issue—a special year-end package, a widely cited list and event which highlights 100 of the world's preeminent thought leaders—activists, artists, musicians, scientists, writers, politicians, entrepreneurs, documentarians, and public figures—of that year.
For the sixth annual Global Thinkers, we tied the theme of "A World Disrupted" together (in print, in motion, and on screen) with an accompanying microsite and video component for the annual Global Thinkers Gala held in Washington, DC. Our work with Brooklyn-based WeShouldDoItAll, who took our initial graphic language and designed and developed the Global Thinkers microsite, earned a silver medal from the Society of Publication Designers in 2015.
More about the process behind the explosion photography by Amsterdam-based photographer Marcel Christ can be found here (note: the cover took 15 takes).
—
---
Role:
Creative Director
---
Skills:
Team lead
Art direction
Design
Photo editing
---
Credits:
Benjamin Pauker, Executive editor, web
Mindy Kay Bricker, Executive editor, print
Ed Johnson, Art director
WeShouldDoItAll, Contributing digital design studio
Won J. You, Contributing web developer
Ian Boyle, Motion design

---
PROJECT DESCRIPTION
When I first started at FP, one of our initial undertakings was a much-needed redesign of the website. As FP's site hadn't been redesigned in over 7 years, we had a virtual blank slate to work from. We had two guiding principles: establishing clarity for the user, and more emphasis on imagery to broaden the appeal of stories.
We started by stripping down and simplifying with a modular, responsive framework. The top nav drop-down menu streamlined the navigation, allowing readers to access topics and favorite columnists quickly. The pages for topics acted as a mini-homepage for users looking to delve into a particular area of expertise. For more robust pieces, we created a parallax scrolling template with a variety of plug-and-play tools (e.g. galleries, sidebars, maps) that can be added in when appropriate.
In addition, we established brand identities for FP's most popular news brands and partner channels.
—